Details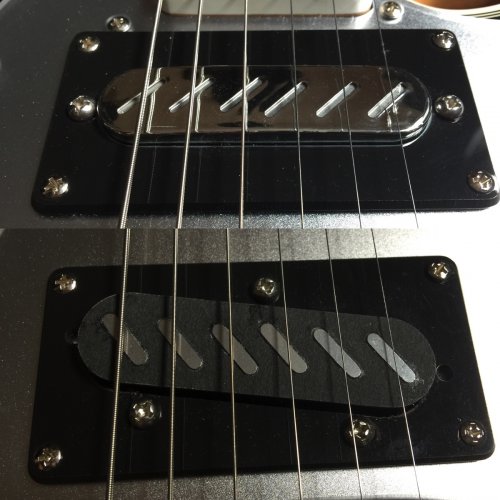 This set of pickups combines a Zexcoil Convertible Model T in the bridge, and a Convertible in the neck.
Voices
Zexcoil Convertibles can operate in two modes: Split and Series. In Series mode, the 6 coils are wired in series, and offer the punch and thickness of humbuckers. In Split mode, the 6 coils are wired as two sets of 3 in parallel. This gives you the shimmer and clarity of single coils.
Traditional Coil Splitting Humbuckers
Humbuckers with a coil-split option are not new, they've been around for years. While this option does make the pickup more flexible, allowing you to get a single coil tone in split-mode, it has a few problems:
They are primarily humbuckers, the split-mode (single coil) tone isn't ideal.
Unusable jump (or drop) in volume when changing modes
Unusable jump (or drop) in brightness when changing modes
Single coil mode is no longer hum-canceling.
The Zexcoil Covertible Advantage
The Zexcoil Convertibles have several advantages:
Both voices sound great
Usable change in volume when switching modes
Usable change in brightness when switching modes
Both modes are hum-canceling.
The bottom line is this: Zexcoil convertibles give you a great humbucker tone, and a great single coil tones in the same pickup. Both voices are hum-canceling. The change volume and brightness is minimal, making it possible to use both modes in the same song.
Switching
Both pickups are wired to a push/push pot in my Tele which allows me to switch them independently. This gives me 8 possible tones:
Neck (split)
Bridge (split)
Middle (neck split, bridge split)
Middle (neck split, bridge series)
Middle (neck series, bridge split)
Middle (neck series, bridge series)
Bridge (series)
Neck (series)
Hum Canceling
Zexcoil pickups are hum-canceling by design. There are no dummy coils, nothing that "subtracts" from your tone. Everything in the pickup adds to the tone. The hum-canceling just happens because of how the coils are wired. It is extremely effective.
Tone
Zexcoil pickups have brilliant tone. Hum-canceling pickups have earned a bad reputation for sucking the brilliance and liveliness from your tone. Zexcoil pickups have no such compromise. You get best-in-class hum-canceling and amazing tone.
Likes
Hum Canceling
Brilliant Tone
Flexible Switching
Usable Humbucker and Single Coil Voices
Uses
I use these pickups when I want the flexibility of switching between humbucker and single coil voices.
Specs
Bridge: Zexcoil Convertible Model T Neck: Zexcoil Convertible
---
Back To Top
Related Parts
---
Back To Top
Appears In...
---
Back To Top
Related Gear
---
Back To Top
How To Buy
You can find this item online at the following link:
http://zexcoil.com/convertibleSet.html
Buying Advice
These pickups are ideal for the person that plays a wide variety of material that demands both humbucker and single coil tones.