A few days ago I replaced the main navigation menu here on TXBA with a new "megamenu". What's a megamenu? Simply put, it's a dropdown menu that shows more than a list of links.
Why does this matter?
TXBA is a fairly big site. There's a lot of different types of content here. And the site is constructed like a real alley. There are several "places" along TXBA, each with a distinct purpose. But this needs to be communicated to a new visitor as quickly as possible.
So the new menu presents much more information about where you're about to "go" before you actually click. There's really not much more to explain, but I'll use the menu for The Woodshed as an example.

Now, when you hover over "The Woodshed", you immediately learn several things:
The Woodshed is where you go for lessons.
There are three types of courses/lessons there.
Full Courses and Mini-Courses cost money
There's a bunch of free videos in Free Lesson Friday
A handful of helpful links to each type of content.
Mobile
The menu gracefully adapts to any screen size, and the content of each dropdown gets progressively simpler to better fit smaller screens. Here's a look at that same menu on a smaller screen.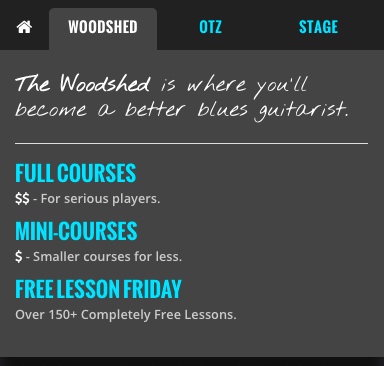 Just enough information to be useful without taking up too much of your screen.
As with any change, there's a chance that it won't look exactly right for every person on every device. So if you notice something that looks wrong, please email me me with a screenshot and the kind of device you're on.
Thanks!
Anthony